A high fidelity prototype of a proposed mobile application for Sam Fox Shops. The app is designed to meet the needs of students, faculty and administration, especially during Covid-19, by making shops, equipment, trainings, and reservations more accessible and better organized. The proposed app also allows for variability, addressing the varied uses of different shops. This project was developed in figma and uses Google Material as a design system.


---
Time Frame: Oct 2020 – Nov 2020
Dimensions: Various
Roles: User research, User testing, Prototyping, UI/UX Design

Completed under the guidance of Jonathan Hanahan, Aaron Zemach, Molly Needleman, & Will Bates.
Sam Fox App, Fall 2020
Challenge


The Sam Fox school did not have a very effective system to monitor and manage equipment and workspaces, leading to accessibility issues and potential safety hazards.
Insight

The original scope of the project was a reservation app, but user research revealed that a reservation system was not the best option for every shop. Different students also had different needs.

Solution

A personalized application that allows for a variety of functionality between shops and tailors information to each user. The app not only indicates which students need further training but also connects them to Canvas platforms to complete the training.



The Final Product
The app has four main pages, which can be accessed via the toolbar at the bottom: the home page, shops page, search page, and calendar page. The calendar page would show students upcoming reservations, breaks, etc. The search page would allow students to search certain tools or facilities quickly.

The Home Page
The home page changes based on the user's reservations and geolocation. If a user is in a certain shop, or has a. reservation starting soon, they can sign in at the top of the home page. They can also access their favorite tools and shops, their checked out tools, and upcoming reservations from this page.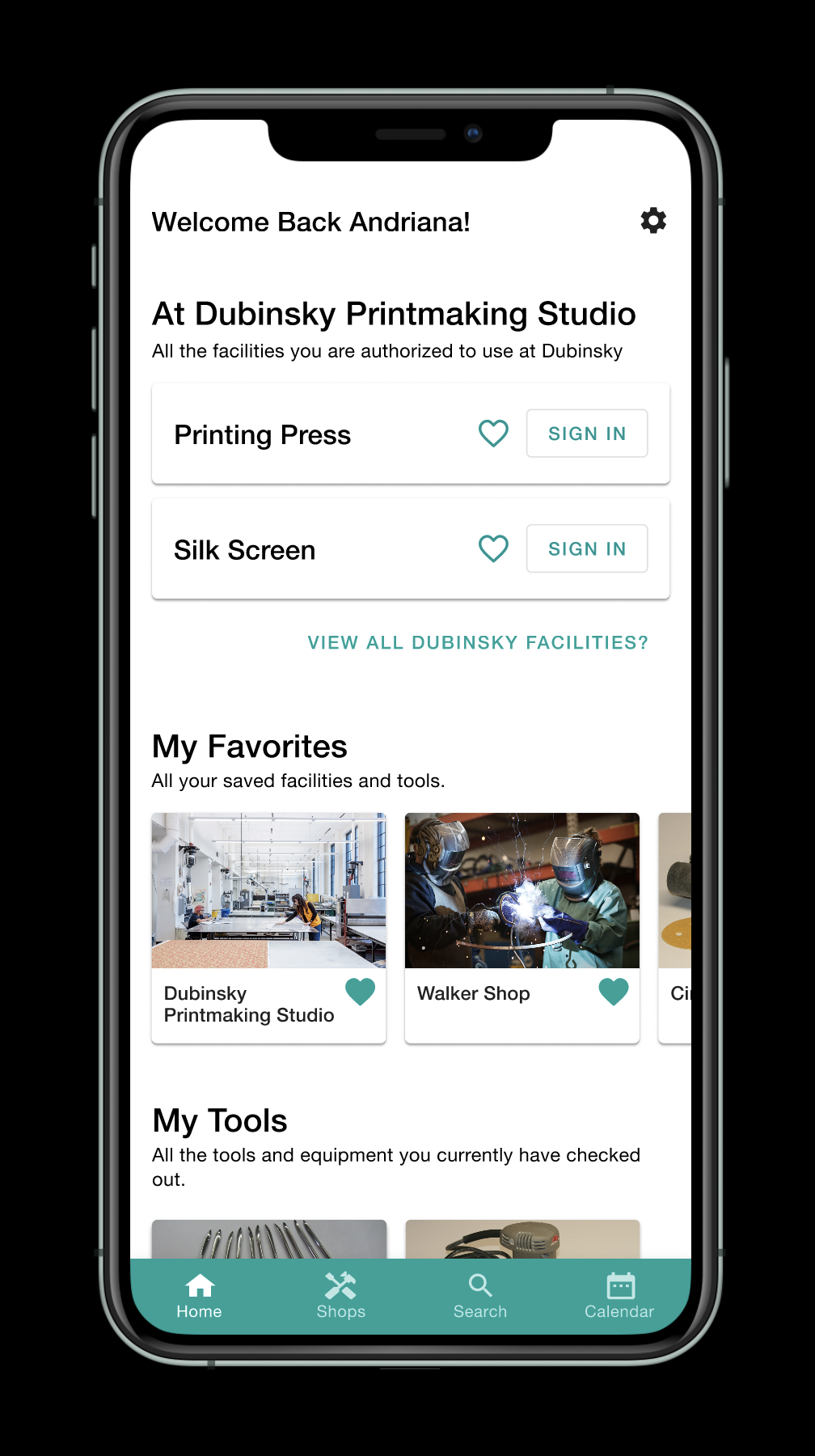 The Shops Page

The shops page shows a general overview of each Sam Fox facility. It tells users how many people are currently in the shop, its hours, if it is at capacity, if they have completed the necessary trainings, if it requires reservations, and what users can do at each shop. From this page, users can access each individual shop's page by clicking the "view facilities" button.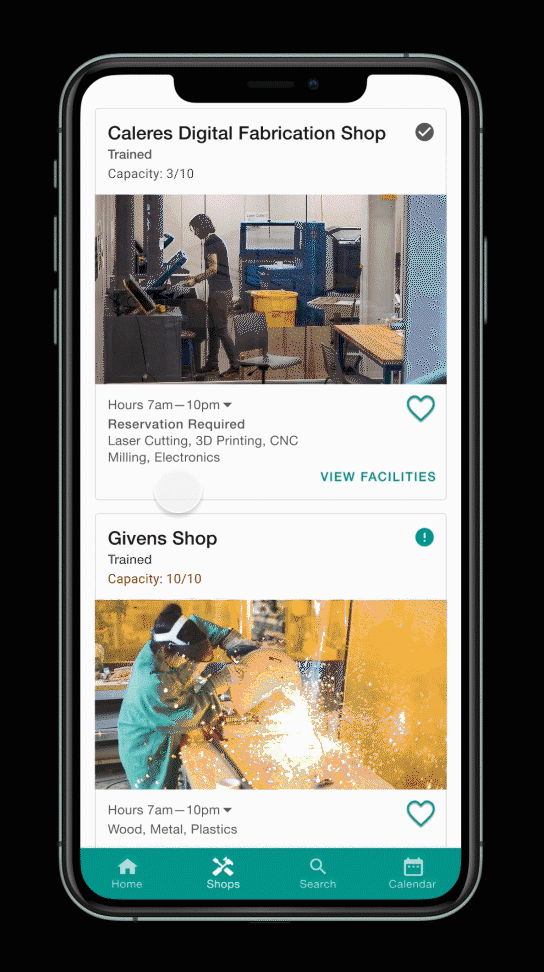 Students would also be able to check out tools from a specific shop's page. By automating this process, both students and shop techs would be able to keep better track of who has tools checked out and when they are due.
Option Between a Sign In & Reservation System
Originally, this app was supposed to primarily serve as a reservation system. However, after talking with school administrators, shop techs, shop monitors, and students, I discovered that making a reservation system for every shop did not best fit each user's needs. Shop techs and Administrators mainly wanted to keep track of what students used the shops and to make sure everyone using the space was trained. For many shops, students said a reservation system would greatly interfere with how they work.
Therefore, I created the option for shops to choose to use a sign in system instead. With this system, students would have to sign in to use a shop. Their phone's geolocation would determine if they were truly at the shop and would be able to sign them out if they leave. If their geolocation is faulty, they could also scan a QR code located in the shop to sign in. They would only be able to sign in to use facilities they are trained on. If they are not trained, they would be prompted to complete the training, and redirected to the appropriate platform to do so.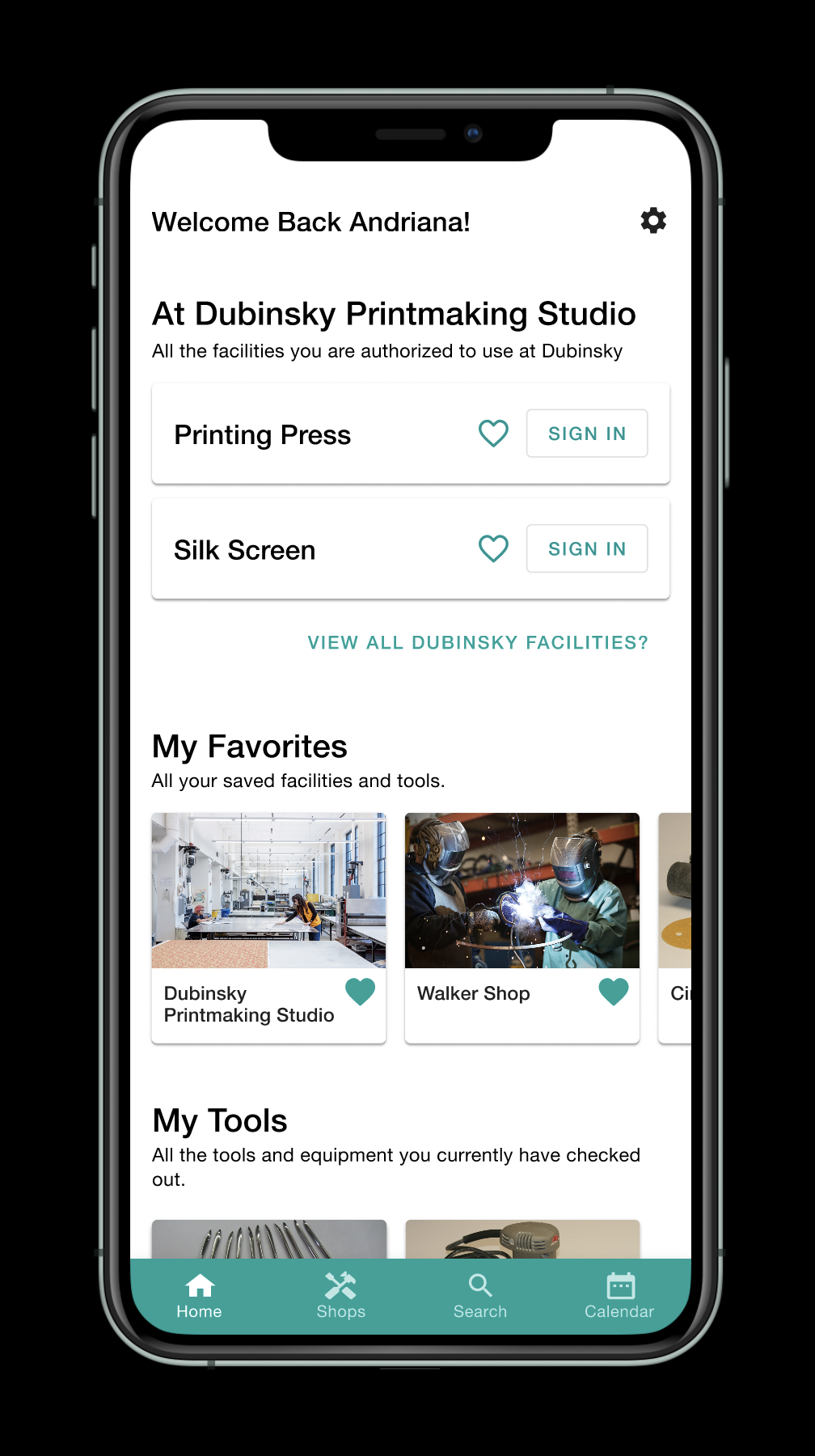 Shops using the sign in system still allow for reservations. However, these reservations must be pre-approved and are not a prerequisite for using the workspace. This allows students or organizations a means to obtain any necessary spaces or equipment for larger projects or events, without disrupting the way students regularly use the shop.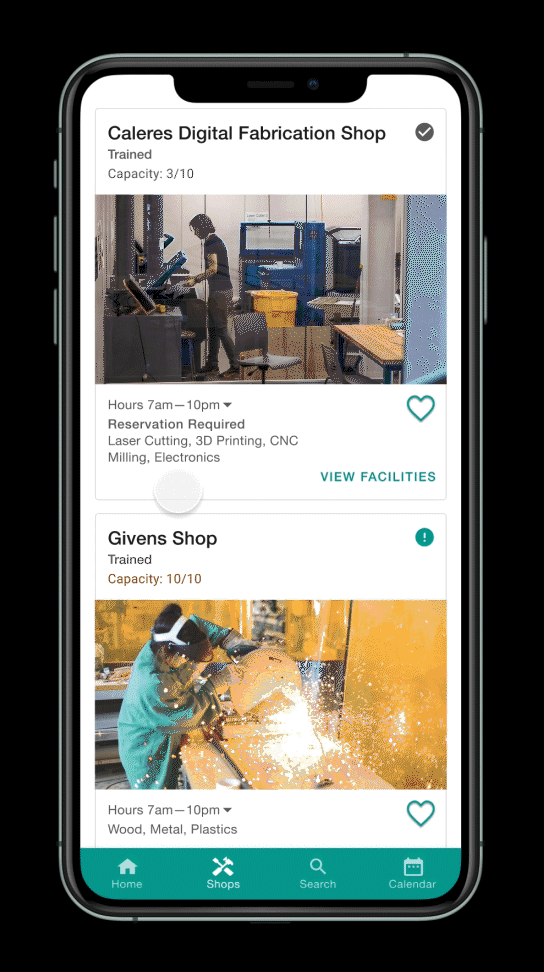 Alternatively, if a shop tech decides to require reservations, students would be prompted to reserve the shop rather than sign in. They would then sign into the reservation instead.